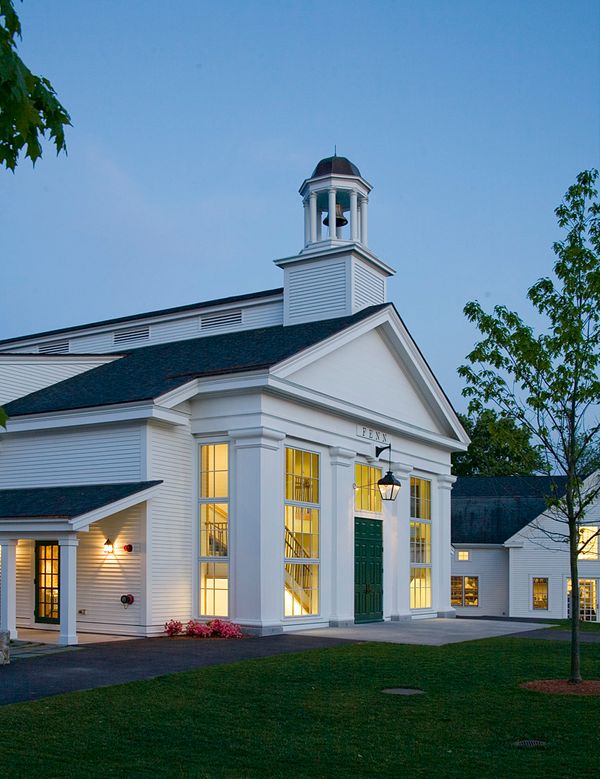 Selected Projects with Other Firms
Meeting and Performance Hall, The Fenn School
Concord, Massachusetts
2011
For Imai Keller Moore Architects, Watertown MA
The new Meeting and Performance Hall accommodates the entire school body and guests for the daily All School Meeting as well as providing performance and instructional space for the drama and music departments.
The building is sited on a green which replaces a parking lot, establishing a new center for the campus.
Library and Science Center, The Fenn School
Concord, Massachusetts
2013
For Imai Keller Moore Architects, Watertown MA
Roger Fenn bust by Domenica de Ferranti, London UK
The Library and Science Center building is sited on a redesigned quadrangle. The building was shaped to preserve a copper beech tree at the corner of the quadrangle in an outdoor space that contains a commissioned bust of the school's founder, Roger Fenn.
The Library occupies the first floor and the Science Center the second.
Elizabeth B. Hall Chapel Renovation and Addition, Concord Academy
Concord, Massachusetts
2004
For Shepley Bulfinch, Boston MA
The chapel is an iconic structure for Concord Academy. The school's goal was to increase seating capacity from 275 to 425, to accommodate the entire school community, while maintaining the look, scale and feeling of the building.
The rounded form of the addition preserves the intimate relationship between speaker and audience and establishes a new relationship to the playing fields beyond.
The project won an AIA New England Honor Design Award in 2005.
Higgins Hall Addition and Renovation, Boston College
Chestnut Hill, Massachusetts
2002
For Shepley Bulfinch, Boston MA
The addition to the front of the 1960's era biology and physics building doubled its size and permitted the reorganization of research and teaching laboratory space around a new skylit atrium.
Rubin Laboratory Addition, Dartmouth-Hitchcock Medical Center
Lebanon, New Hampshire
2004
For Shepley Bulfinch, Boston MA
The four story addition added 120,000 square feet of wet and dry research space to existing clinical space, connected vertically by a glazed atrium.
New Research Space, One Brave Idea Science Innovation Center
Boston, Massachusetts
2017
For Imai Keller Moore Architects, Watertown MA
with Elkus Manfredi Architects, Boston MA (architect of record)
Mural by Maya Hayak, Brooklyn NY
The One Brave Idea initiative, a competitive award from the American Heart Association and other sponsors, won by an interdisciplinary team led by Brigham and Women's Hospital's Department of Cardiovascular Medicine, needed space to support innovative approaches to cardiovascular research. The 10,000 sf suite, developed from unfinished shell space, was designed to provide a range of flexible workspaces and to promote the fluid integration of team activities.